Welcome to Face of Contentment Design, the online home for PMC and Art Clay classes, hand-crafted silver jewelry, original polymer clay accesories, lampwork, fused glass, and much more.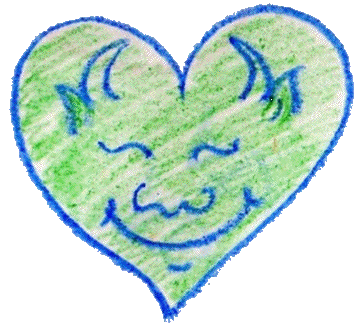 I fell in love with precious metal clay the first time I heard about it. It feels like the alchemy I used to read about in school, and later in fantasy novels. You take a bit of clay, sculpt it, fire it in a kiln, polish it a bit, and you have created a piece of 99.9% pure silver. It can be fashioned into jewelry, used as art, or as an accent piece.
I have spent twenty years as a special educator, a school principal, and Hebrew school teacher finding fulfillment in opening new worlds for children and teens. Having found my inner artist (I am certified as an instructor for PMC and Art Clay) I aspire to bring the creative and magical world of precious metal clay to others.
My pieces are reflective of my eclectic background. Having held jobs that range from waiting tables, working with horses, to teaching in public and Hebrew schools, my art demonstrates my love of the simplicity of children. My "A Dori-bull" (see drawing above) speaks of my journey to find contentment while making a little mischief.
I am willing to do custom work, as well as to modify any of my designs to suit your needs.
Dori Daus, Artisan and Teacher.


"I Make Stuff!"
---
Face of Contentment Design is featured in the book, Picture Yourself Creating Metal Clay Jewelry, by Tammy Powley. Find us on page 221!
---
Face of Contentment Design was featured in the March 5, 2009 issue of The Sentinel! Check it out!
---
Face of Contentment Design was Art Clay World's "Artist of the Month" for January 2011! Check it out!
---
Did You See Us At...
Artists' Retreat @ Waretown
Maplewoodstock 2010 and 2011
Beachfest I
Smithville Renaissance Fair
Sharrot Winery
Cedarvale Winery
New Hope Renaissance Faire
Haddonfield's First Fridays
Moorestown's Art Walks
RU Craftivists Fair at Rutgers University,in support of MADRE
BBW Bash in Somerville
Oak Tree Craft Fair
EB Performing Arts and Drama Parents Assn Craft Show
Crafts in Chelsea Festival
Spirit of Chesterfield Festival
Powerhouse Arts District Neighborhood Association Festival
Everything Jersey City Festival
West Orange Street Fair
Fairlawn Street Fair
Westfield Street Fair
---


All original material on this site is
© 2007 - present Face of Contentment Design.
All Rights Reserved.
This site designed and maintained by